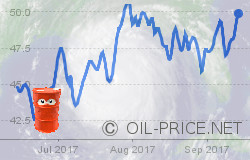 Harvey caused massive destruction and damages to Texas. We take a detailed look on the ramifications for oil.
STEVE AUSTIN
|
2017/09/18
---
Harvey, making landfall as a Category 4 hurricane, battered southeast Texas a few days ago. Though downgraded to a tropical storm later on, it left a trail of massive destruction including loss of lives, in its wake.
With many parts receiving more than fifty inches of rain, Houston, the fourth largest city in the US, took the brunt of resultant flooding. The extent of damage is yet to be ascertained. However, according to the Harris County flood control district, an estimated 136,000 structures in the Houston area were affected because of flooding rainfall. About sixty people lost their lives. At least two oil spills have been reported from Texas because of Harvey. The Trump administration has requested $7.85 billion for the initial recovery efforts.
As for oil, Harvey caused refinery shutdowns, flooded wells, port closures and oil production outages. As such, we take a detailed look at the damages unleashed by Harvey and its impact:
Within the various oil sub-sectors, the consequences of Harvey are more dire for Downstream. As opposed to the exploration and production in the upstream sector, downstream is where crude oil is processed, purified, marketed and distributed. In many ways, downstream operations are closer to everyday life. An important part of downstream sector is refining.
When refining capacity is affected, due to natural events like hurricanes or due to technical outages, the processing of oil into fuels slows down. This leads to turbulent oil prices because of short supply. But at the same time, hurricanes and storms result in lower gasoline demand due to lower consumption. So, in truth, the effects of a storm are felt only after a week of the real event, when downstream operations return to normalcy. Hurricanes Harvey, Irma and Jose were no exceptions.
The southern-eastern Texas coast, where Harvey stuck, is a major oil hub filled with ports, terminals and refineries. Particularly, Houston, Texas city and Baytown regions have eleven refineries that together manage 2.7 million barrels of oil a day, or about 14% of the nation's refining capacity.
In fact, more than 3 million barrels of crude moves to the Gulf coast every day from countries like Mexico, Saudi Arabia, Venezuela and Colombia. About 1 million barrels of crude is also exported each day. According to the US Bureau of Safety and Environmental Enforcement the storm has cut off about 24% of oil production in the Gulf of Mexico and 26% of Natural gas production.
Furthermore, the Gulf coast contributes almost one-fifth of total oil output in the US. It also houses about one-third of US's capacity to turn oil into gas, diesel and other byproducts. Harvey knocked off about a quarter of that oil, nearly 430,000 barrels of oil per day, produced in the Gulf of Mexico.
To be sure, more than 20% of US refining capacity have been affected. According to the Energy Department about ten refineries in the Gulf coast were on lockdown because of Harvey. Clearing the debris from the channels and ports so as to enable the smooth flow of crude oil to refineries will take some time.
And, what about the pipelines? The colonial Pipeline, the biggest fuel system in the US, that transports more than 100 million gallons of heating oil, gasoline, and aviation fuel, begins in Houston. The main diesel, jet and gasoline lines of this pipeline have been temporarily shut because of lack of fuel. Along the same lines, the main line of the Explorer Pipeline with a capacity of 660,000 barrels per day hauling fuel from the Gulf coast to the Midwest region has been shut too. Two East coast refineries have run out of gasoline meant for immediate delivery.
More than 1 million barrels a day of oil is expected to remain offline in the Houston/Galveston area alone. In total, Harvey shunted about 4.4 million barrels of oil per day of refining capacity.
The oil prices, in the aftermath of the hurricane, are yo-yoing with no clear picture. On the final day of August, retail gasoline hit a two year high clocking $2.59 a gallon in the US over anxiety on fuel shortages. For the week ending on September 2, Brent went up by 0.65 percent. However, US crude met a weekly decline of 1.25 percent. Initially, crude oil prices showed weakness due to low demand for oil. By September 5, the benchmark US gasoline futures recorded a fall by more than 3 percent while US oil prices soared to their highest in three weeks.
Meanwhile, the US Government has approved the release of about 4.5 million barrels of crude from the Strategic Petroleum Reserve. Earlier, a withdrawal of 1 million barrels from the emergency stockpile was announced for a refinery in Lake Charles, Louisiana and 500,000 barrels to Valero energy. The withdrawals, appearing significant while making news, are more of a politically motivated symbolic gesture. Yes, we'll explain. SPR does protect the domestic economy from outside market threats like the OPEC cartel. However, it is woefully useless in the face of hurricanes because, simply put, if refineries are down, more oil isn't going to help.
Meantime, OPEC and other oil exporting countries are striving to keep off 1.8 million barrels a day of crude off the market to lower the crude oil stockpiles of oil importing countries. But, the weaker demand will keep the calculations continually wrong. In the US, the crude oil inventories stand at 463.2 million barrels. Crude oil imports in the US averaged 8.8 million barrels a day with an increase of 664,000 barrels per day, according to the EIA.
Conclusion
Not long ago, the oil industry was banking on a sunny target of 10 million barrels per day in oil production by the end of this year. Because of Harvey, that outlook would remain a dream for some time. On the other hand, the oil drillers have returned to work in the Gulf coast. As far as the refineries are concerned, the aftermath have more to do with flooding rainfall than mechanical damages. So, in two to three weeks, expect the refineries to be back in operation. Motiva refinery, the nation's largest with 600,000 bpd capacity, had already restarted about forty percent production within days. Likewise, port operations are promptly resuming along the US Gulf coast.
At present, Europe, with a surplus of gasoline, has stepped in with additional gasoline shipments. However, as soon as the refineries return to normalcy, the shipments from Europe will fall back.
Hurricanes are a yearly occurrence. Unlike earthquakes, hurricanes are predicted weeks in advance allowing remediation measures to be put in place and minimize impact. The Texan downstream sector was up and running within days of hurricane Harvey. Despite what sensational headlines would lead one to believe, refineries are well-oiled machineries - no pun intended - built to weather this storm, and then some.
---
Learn from our Research
We share professional crude oil price intelligence, research and insights.
Unsubscribe at any time. 60,000+ people are now receiving our research.