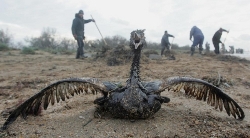 A spill of heavy oil could be catastrophic.
GIUSEPPE MARCONI
|
2007/12/13
---
The extraction of heavy oil presents certain environmental problems. It contains more contaminants, such as sulfur, vanadium, and nickel, and releases more carbon dioxide per amount of usable energy when burned.

---
Learn from our Research
We share professional crude oil price intelligence, research and insights.
Unsubscribe at any time. 60,000+ people are now receiving our research.