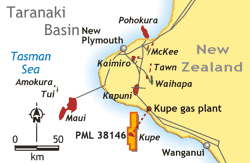 It was confirmed that oil fields in Taranaki basin has about 100 million barrels of recoverable oil.
MERLIN FLOWER
|
2010/03/17
---
Heard about Zealandia, the eighth continent of the world? Zealandia is said to be a submerged or micro continent that sank millions of years ago. Most of this submerged continent is said to be in the Pacific Ocean. Zealandia is rich in oil and could be the answer for unlocking the oil potential of New Zealand, the largest country in the continent.
In the sixties, many companies had tried to find oil in New Zealand. But by the eighties, most of them had to retire from the scene without finding any oil. Now with the advancement in technology, companies hope to change their record. Why not? Analysts are of the view that New Zealand is at the same stage that Norway was in the Pre-North sea era. Further, some say that the oil could be more than Britain's North Sea boom. Yes, the country's oil sector is at crossroads.
To put in some economic perspective; according to the Ministry of Economic Development, in 2009 Oil contributed to almost 37 % of TPES (Total Primary Energy Supply). Thus, oil is the largest source of energy in New Zealand. At present, the petroleum sector contributes around $3 billion per annum as export revenue. The government is planning to increase this to $30 billion per annum by 2025 by exploring for oil in unexplored basins.
So brace yourself; you are going to hear a lot more about Zealandia soon. And, promotions are in full swing to attract investment in oil and gas exploration in the deepwater basins. The New Zealand government even initiated a seismic-acquisition program costing USD 20 million on off shore sedimentary basins. The results of the study were shared with the oil operators for free.
The oil scene in New Zealand
For decades oil exploration in New Zealand was off the radar. There was the Maui gas and oil field in the Tasman Sea, the largest oil field in New Zealand. This oil field has been in action for more than twenty five years, contributing to more than three-quarters of the hydro-carbons produced. But the reserves have since dwindled, so exploration for oil has begun in earnest.
According to the country's Ministry of Economic Development's 2009 Energy Data File, the spending on oil exploration was the highest in a decade. The expenditure in petroleum exploration increased to $314 million from $136 million in 2007.
Indeed, the total oil production was at the highest for any calendar year at 21 million barrels or 128 PJ. This is up by about 45% from the 2007 levels. The country's mean production rate was 58,400 barrels per day for 2008, an increase from 40, 750 barrels per day in 2007. The two oil fields of Pohokura and Tui contributed to about 86% of the production.
Explorations
In recent times, the New Zealand Ministry of Economic Development's Crown Minerals Group has been promoting bids for the Reinga Basin and Northland Basins for companies in North America, Australia, Europe and Asia.
Nine exploration permits were given to exporters for exploration in Offshore Taranaki Basin in 2008. As a result, 20 exploration wells are proposed to be drilled over the next five years, targeting both shallow oil and deep gas. Last year, it was confirmed that the Maari and Manaia oil fields in Taranaki basin has about 100 million barrels of recoverable oil.
Exploration are on in two offshore areas, Raukumara (East Cape) and Northland basins, the combined area of the two blocks being over 66,000 square kilometres. Seismic surveys in Raukumara basin have already identified many areas with high Direct Hydrocarbon Indicators (DHI's). The satellite radar imaging also showed the presence of significant hydrocarbon in the basin. In addition, seismic interpretations in the Northland basins show many structural and stratigraphic traps. The satellite radar imaging has identified many potential offshore oil seeps, that is, presence of hydrocarbons in the basin. The Northland basin covers 120,000 square kilometres.
Last year, a semi-sub offshore oil rig called Kan Tan IV was commissioned to explore in Taranaki. Kan Tan IV will start a multi-drilling programme for oil near the Tui fields and wells in Northland and Canterbury Basins. The rig, after some delay in the Bass Strait, is on Taranaki basin preparing to drill in the Hoki-1 exploration well. Hoki-1 has an estimated target of 250 million barrels of recoverable oil. After Hoki-1 Kan Tan IV will start a multi-drilling programme for oil near the Tui feilds and wells in Northland and Canterbury Basins.
Early this year, the Government opened the bidding for exploring in six new blocks across the Reinga basin. The Reinga basin covers area of more than 150, 000 km2. This basin is nearer to the Northland basin and geologically contiguous with the Taranaki basin. Surveys and seismic data from the place suggest the presence of oil seeps in many areas as well.
"This is an exciting opportunity for New Zealand and explorers alike. It is one of the most prospective frontier basins in the New Zealand region with all the elements required for an active petroleum system present over a large area," said Energy and Resources Minister Gerry Brownlee.
Another oil prospect, Barque, was initially expected to contain 800 million barrels of light oil and five trillion cubic feet of natural gas. That is, oil equal to all the previous finds in the country. But after detailed evaluation, the recoverable oil from the well was cut down. Tap Oil, the operator of the Barque well, put the estimates at 600 billion cubic feet (BCF) of dry sales gas and 58 million barrels (mmbbls) of light oil/condensate.
In Canterbury Basin, explorers Origin Energy and Anadarko are looking for a rig to drill for oil. The exploration well is expected to be in place by next year. After evaluation, the oil prospects from the basin have been put at 500 million barrels.
Some of the companies operating in New Zealand are Horizon Oil, OMV Cue Energy, Shell, BP, Mobil Exxon, OMV, Todd corporation, Greymouth petroleum, Australian Worldwide Exploration, Tap oil, AWE New Zealand Pty Ltd, Beach Petroleum (NZ) Pty Ltd and Anzon New Zealand Ltd.
The Sydney based company AWE Ltd is said to be waiting for environmental appeal over a well, Tuatara-1 off D'Urville Island. The Tuatara-1 well is estimated to have oil potential of about 100 million barrel.
What we are seeing now in New Zealand are oil prospects. The full potential of the basins are still to be ascertained-could be from anywhere between 600-1200 million barrels. Not small numbers, mind you. The oil discovery is expected to be made in four of five years time. So any oil or gas if found, would take at least a decade to reach the market.
Still, it's true that the world is using more barrels of oil than is being discovered. In the longer term, competition for the falling oil supply would be intense. And Zealandia is one place to watch out for.
---
Learn from our Research
We share professional crude oil price intelligence, research and insights.
Unsubscribe at any time. 60,000+ people are now receiving our research.